On July 1st, 2020 the United States-Mexico-Canada Agreement (USMCA) replaced the 26-year-old North American Trade Agreement (NAFTA) governing all trade within North America. This trade agreement – negotiated by the governments of the United States, Mexico and Canada – is intended to mutually benefit and support North American workers, farmers, businesses and ranchers through the use of fair and reciprocal trade.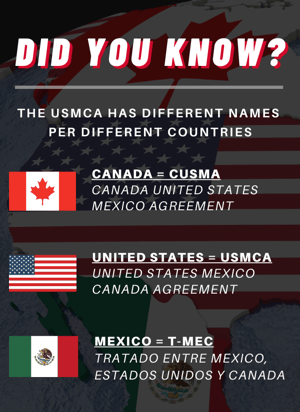 The new trade agreement promises to significantly impact many aspects of the North American economy by facilitating freer trade between the three countries; bringing in stronger investments and creating a steadier job market. The USMCA also addresses recent and emerging critical issues including compliance and regulatory systems, policies on labor and environmental standards, eCommerce and telecommunications, digital trade provisions and the protection of intellectual property.
Compared to the original NAFTA, the USMCA includes several enhancements that impact cross-border shipping regulations and customs. Some of the significant changes are:
Higher de minimis thresholds on imports into Canada and Mexico reducing duties and taxes
More value shipment limits reducing the amount of documentation needed
Decreased volumes requiring formal clearance lowering costs and increasing efficiencies
Quicker clearance times allowing for more shipments
Unlike NAFTA, the USMCA does not require exporters to complete a formal Certificate of Origin (COO). Instead, the COO can now be achieved by using informal documentation such as a commercial invoice as long as it contains a set number of minimum required data elements completed by either the importer, the exporter or the producer. The required elements include the following:
the name and address of the certifier, the exporter, the producer and the importer
a description of the goods
the HTS classification code
the origin criterion
the certification indicator
the method(s) of qualification
the country of origin and a signature
While the overall changes from the NAFTA to the USMCA are relatively minor, certain areas of trade have gotten much needed upgrades. Navigating through these changes and adapting to them is critical to your organization's success in trans-border shipping. BTX Global Logistics' international shipping and logistics professionals are available 24/7 to assist you through these complexities.
Please click below to download the USMCA Certificate of Origin form.
BTX Global Logistics' full suite of shipping and logistics services includes expedited shipping, air freight, ground freight, sea freight, white glove, trade show, ecommerce, fulfillment, distribution and much more.