---
2018 was an exceptional year for BTX Global Logistics, a global shipping and logistics organization headquartered in Shelton, Conn. The year was marked by exponential growth across all levels of the business including staffing, the opening of new regional branches and the expansion of service offerings.
BTX Global Logistics continues to make an impact in the community by sponsoring and participating in key events, such as the 'Step Up for the Braves' challenge. The 2018 event raised money for Homes for the Brave (HFTB) to help men, women and children leave homelessness behind. The not-for-profit organization has a special focus on helping veterans and their families. Other community outreaches 'BTX Cares' was a part of in 2018 include coat drives, toy drives and natural disaster relief initiatives. Click here to view the BTX Cares Photo Gallery.
Below are some of the other 2018 highlights BTX is extremely proud to share:
January 2018
BTX expands its National Customer Service Center to support national accounts staffed with over 20 operational people focused on premier support and communications.
April of 2018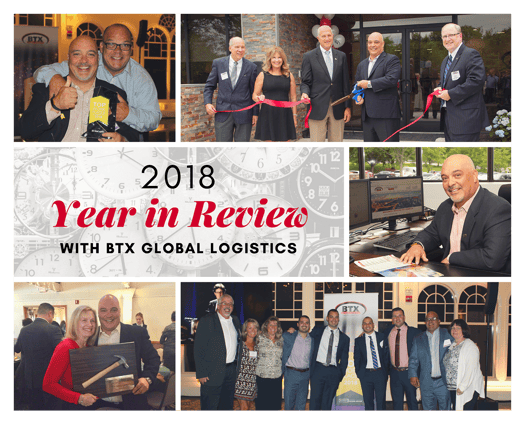 June of 2018
BTX inaugurates its 72,000 square-foot world headquarters in Shelton, Connecticut. The environment-friendly (green) facility was designed to offer BTX staff the best amenities and provide customers with an in-house, specialty e-commerce solutions center. Click here to read story.
August of 2018
September of 2018
BTX launches its new company website (click here to view the BTX website launch video). Btxglobal.com was designed as a tool for customers to use to learn more about BTX's suite of services, connect with BTX stations, request quotes, and stay on top of Industry and BTX news.
BTX expands into Laredo, Texas, with the opening of BTX-LRD.
October 2018
BTX President & CEO Ross Bacarella is honored by Hearst Connecticut Media Group's Top Workplaces for his leadership skills, click here to read story.
BTX Global Logistics is named a Top Connecticut Workplace by Hearst Connecticut Media Group for the third consecutive year. BTX also received that honor in 2016 and 2017, read story.
November 2018
BTX Global Logistic opens its fourth regional center of 2018 in Roanoke, Virginia (BTX-ROA).
BTX expands its e-commerce service offerings to provide clients with additional customer acquisition services, such as: Search Engine Optimization (SEO), Video Engine Optimization (VEO), App Store Optimization (ASO) and Pay Per Click (PPC) consultation.
December 2018
The Greater Valley Chamber of Commerce presents BTX President and CEO Ross Bacarella with the Silver Hammer Award. The Silver Hammer Award was awarded to a total of four businesses in recognition of significant construction and/or renovation projects in the Valley region of Connecticut over 2018. BTX Global Logistics was recognized for the completion of its new world headquarters in June of 2018.
BTX is expected to open four more regional centers in the first quarter of 2019.
BTX Global Logistics is a full-service transportation and logistics organization specializing in time-sensitive, heavy-weight freight and integrated solutions for customers in the U.S. and around the world. If you would like to request a quote, please click here. For career opportunities, please click here.
---