BTX Global Logistics Chief Financial Officer Marty Capuano was recently honored for exceptional leadership in an outstanding organization at Westfair's C-Suite Awards ceremony held on Jan. 31, 2019. The C-Suite Awards celebrate leaders who create innovative ideas that propel progress and success in their organizations.
Capuano was among top business leaders in a wide range of industries including legal services, medical services, communications and logistics in the Fairfield and Westchester County areas. Other business leaders honored at the event included Tim Tulfer, Chief Financial Officer of Heineken U.S.; Lynne Allan, EVP/Chief Operation Officer of Greater Hudson Bank; Sharon Kiely, Chief Medical Officer at Stamford Health and many others.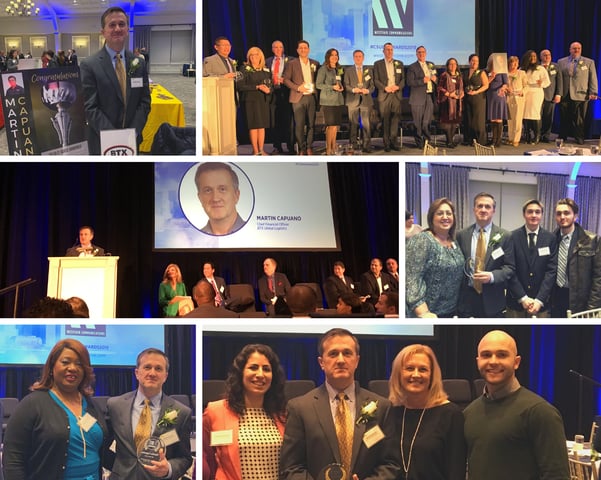 Family and colleagues accompanied Capuano to the event. While on stage, he spoke about the importance of setting goals and holding regular meetings to strategize and communicate the company's overall vision to the whole.
"Goal-setting starts at most organizations in the boardroom, but the execution depends on commitment from the organization as a whole," he said. "I am truly honored and humbled that BTX and the C-Suite Awards judges chose me as one of the recipients of this award."
Capuano joined BTX Global Logistics in 2015 with 15 years of freight-forwarding industry experience and longstanding industry relationships. His experience, character and reputation have played a large role in his success.
"Marty's reputation as a man of integrity, trusted in the industry to deliver on his promises has set him apart," said Sharon Hoffman, BTX Vice President of Corporate Strategy. "His understated but effective management style, openness to new ideas and ability to deliver results on a consistent basis have led BTX to experience unprecedented growth since his arrival to the company."
Hoffman added, "Marty is a humble, family-oriented and friendly guy who treats everyone with equal respect no matter what position they hold in the company."
The event, presented by the Westchester and Fairfield County Business Journals, was filled with leadership and business advice from the C-Suite Award recipients. Capuano was also featured in a February 4th article by Westfair Communications (read article) and in the Westchester and Fairfield County Business Journals on February 11th.
BTX Global Logistics is a worldwide shipping and logistics organization that provides flexible transportation solutions for shipments of any weight or size, anywhere in the world. With over 38 years of experience, thirty regional branches across North America and countless international partners, BTX brings a team of seasoned logistics professionals together to offer customers the highest quality of service. Click here to request a quote today.
---