---
BTX Global Logistics - a global freight forwarding and logistics company - inaugurated its new world headquarters at 12 Commerce Drive, Shelton, last week.
BTX Global Logistics is a full-service transportation and logistics organization that specializes in time-sensitive, heavyweight freight by air, land and sea.
Over 120 guests ranging from business associates to customers, staff, carriers, neighbors and state and local officials gathered for the unveiling of the 75,000 square-foot state-of-the-art facility. Among the guests were Shelton Mayor Mark A. Lauretti and State Senator Kevin Kelly.
"BTX started primarily as a shipping company providing air freight services to our clients from a single terminal in Stratford, Connecticut. My brother Len and I doubled as forklifts because we had no loading docks back then. Today, in addition to airfreight, we provide ground and sea services, warehousing, fulfillment and e-commerce services to customers around the world," said Ross Bacarella, CEO and President of BTX Global Logistics.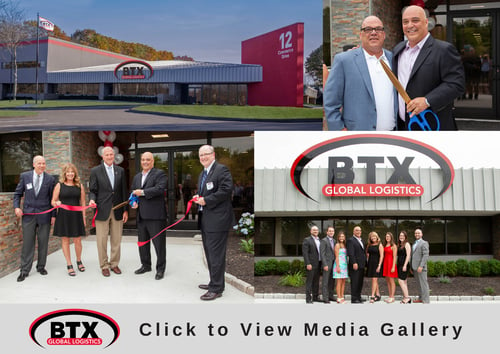 BTX Global Logistics has grown from a single terminal founded in 1980 by Anthony "Tony" Bacarella to a global organization of 25 branches throughout the U.S. and Canada with partners strategically located across the globe. BTX will be opening two additional regional offices this year – one in Detroit, Michigan, and one in Laredo, Texas.
"I am so proud to be working with BTX. It takes an enormous amount of grit, dedication, and sacrifice to grow a business," said Megan Aronson of Aronson Woodworks. "I'm so happy for you all! I look forward to a lasting relationship utilizing your services."
BTX's new Corporate Headquarters is the former home of Latex Foam Products Inc. The entire facility had to be gutted out and completely renovated to fit today's vision of the world class eco-friendly facility.
The building features high-efficiency lighting and HVAC equipment, 75 office cubicles with sit-stand desks and dual monitors, 25 private offices, multiple conference rooms, a custom designed kitchen and lounge area, several loading docks, a fitness center and an in-house warehouse and fulfillment center.
"It was nice to see the facility and all the amazing things that you have going on there," said Jennifer Gaudino of Kubtec Medical Imaging, a longtime BTX Global Logistics customer who attended the Open House in a note to BTX. "The building is spectacular! I cannot reiterate enough, you have the best team – especially the people that I have the pleasure working with week in and week out."
BTX Global Logistics was named a Top Connecticut Workplace by Hearst Connecticut Media Group in 2016 and 2017. The winners of the 2018 contest have not been announced yet.
For photos of the event and additional information about BTX Global Logistics, please click here.
---
BTX Global Logistics is a full-service transportation and logistics organization specializing in time-sensitive, heavy-weight freight and integrated solutions for customers around the world. With over three decades of experience, twenty-five stations across North America and countless international partners, BTX Global Logistics brings a team of seasoned logistics professionals together to offer you the highest quality of service. For more information about BTX Global Logistics, visit www.btxglobal.com.