This week is National Truck Driver Appreciation Week (NTDAW). This is an important time to pay tribute to the 3.6 million professional truck drivers in the United States for their continued commitment in undertaking one of our economy's most demanding and critical jobs. This year's NTDAW takes on special significance considering the crucial role drivers have been playing throughout the COVID-19 pandemic and the natural disasters this year.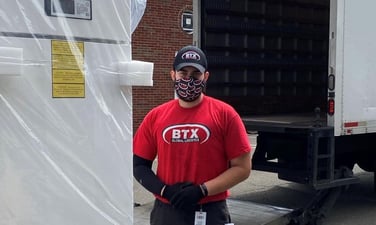 Nearly every aspect of our daily lives has been touched on some level by a dedicated truck driver delivering goods and/or resources to them. In fact over 80% of U.S. communities depend solely on trucking for delivery of their goods and commodities. During this week, whether you take a visit to your local grocery store, gas station or doctor's office, take a moment to remember that all of the food, fuel and medicine you need has been delivered by a truck driver.
"Truck drivers consistently rise to the challenges of our economy by providing the nation with essential goods that keep our country strong," said BTX's Vice President Len Bacarella, "Many drivers miss out on moments at home by sacrificing their time to keep our cargo moving. We are grateful for all the hard work our drivers and dispatch staff put in on a regular basis."
BTX Global Logistics provides a broad portfolio of domestic ground service options to customers worldwide. Whether you're shipping a pallet or booking a truck, we deliver integrated solutions for your supply chain through LTL, FTL, Expedited, Residential Delivery, Specialized and Trans-border services from coast to coast.
BTX Global Logistics is a full-service shipping and logistics organization known for providing creative and flexible solutions to its customers. BTX's services include expedited shipping, air freight, AOG/aerospace,
ground freight, sea freight, white glove, tradeshow, ecommerce, fulfillment, distribution and much more.