---
It all started in 2008 when New York City's Department of Transportation (DOT) released the agency's "Sustainable Streets" strategic plan to reduce traffic congestion and increase street safety for pedestrians and drivers in the City's busiest areas. Since then, NYC Mayor Bill de Blasio's plan has been implemented phase-by-phase throughout the years. Among the City's many initiatives are new curbside regulations and restrictions that will affect deliveries being made to designated areas in NYC beginning in 2018.
On March 19, 2018, the first phase of implementation of Mayor Bill de Blasio's congestion mitigation plan went into effect. The Clear Curbs initiative is a six-month pilot program that tests restrictions to curbside access during peak hours to reduce travel lane blockages in key areas of New York City.
The Clear Curbs initiative bans curbside deliveries (parking and loading) on both sides of the street during morning and evening peak hours – Monday through Friday from 7:00 to 10:00 a.m. and 4:00 to 7:00 p.m. These restrictions are being implemented along Flatbush Ave. in Brooklyn and along Roosevelt Ave. in Queens. Deliveries to off-street loading docks and the expeditious pick-up and drop-off of passengers will still be allowed.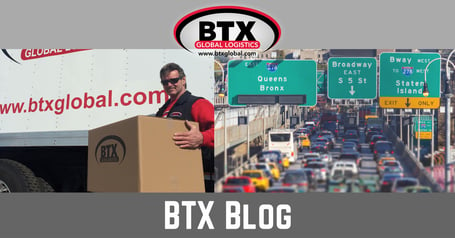 Beginning April 2, 2018, the Clear Curbs initiative will also be implemented in Midtown Manhattan during the same hours. It will affect the zone bounded by Sixth Ave. to the west, Madison Ave. to the east, 45th St. to the south and 50th St. to the north.
In addition, also as of April 2, the Clear Lanes initiative will be implemented in Midtown Manhattan limiting deliveries to a single side of the street/curb for 12 hours each day (from 7 a.m. to 7 p.m.) on 11 crosstown streets. The Clear Lanes initiative's objective is to streamline curbside regulations on one side of the street to create a continuous curbside moving lane during peak weekday hours in order to keep traffic moving in Manhattan's Central Business District.
"At this point, it's too soon to tell how the New York City bans and restrictions will impact business. Moving forward, we are making the proper adjustments to minimalize its effects on daily operations," says Bill Timpano, JFK Station Manager, BTX Global Logistics (New York Service Center).
NYC's DOT is also expanding its off-hour delivery program to assist businesses that opt to shift deliveries to less busy times as an added incentive to help reduce congestion during peak periods.
On the bright side for drivers, NYC's DOT has restored turns along Clear Lane corridors where turns had previously been restricted (complete) and will install turn lanes on cross streets where turns have been restored. It is also studying restored turn intersections for signal timing changes.
Lastly, NYC has expanded its Block-the-Box enforcement to reduce gridlock in 50 key intersections citywide as part of its Clear Intersections initiative to keep traffic moving. The Department of Transportation will install special "block-the-box" markings and signage to increase driver awareness at locations with these restrictions.
Ground Shipping Alert:
To summarize, be sure to account for New York City DOT's latest regulations and restrictions when scheduling your deliveries and pickups to any of the designated areas mentioned above.
BTX Global Logistics is a full-service transportation and logistics organization specializing in time-sensitive, heavy-weight freight and integrated solutions for customers in the U.S. and around the world. For more information, please visit www.btxglobal.com.
---