---
Last year, we saw an incredible paradigm shift in capacity with regards to global supply chains. In the United States, e-commerce traffic took our normal capacity away in November and December due to record level volumes. Severe backlogs with our core vendors forced BTX Global Logistics and others in our industry to look elsewhere to move cargo just about anywhere.
Moving cargo from Europe into the U.S., for example, was very challenging with Frankfurt Airport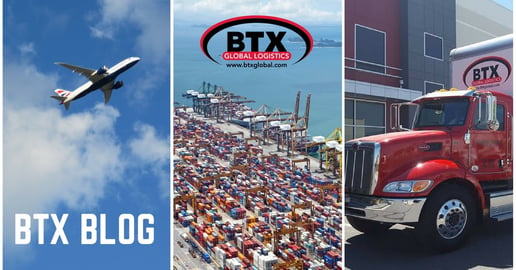 (FRA) in Germany backed up so severely that booking for air cargo space to the United States was almost two weeks out. In Dallas, Texas, a main carrier for our industry told us that they could not handle the current volumes being put on them and urged us (along with others in the industry) to seek alternative means.
It's not just air freight that has been affected by the high freight volumes, we continue to see capacity issues on securing trucks to move truckloads throughout the U.S. This trend emerged in December of 2017 with Christmas week bringing the highest national average van rate in three and a half years and the Dry Van Load-to-Truck ratios soaring to the highest level ever recorded, according to DAT Solutions Trendlines reports.

Record high demands brought record high rates for 2017. A few days ago, the Wall Street Journal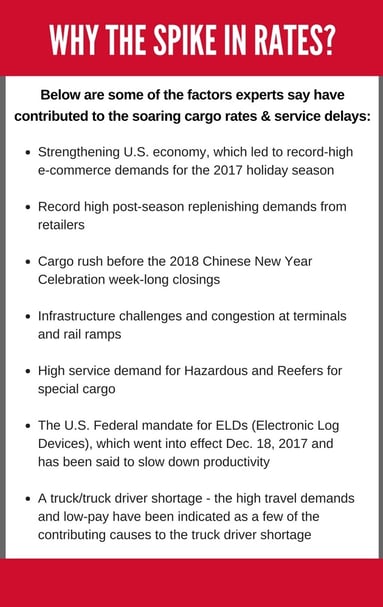 published the following article, "Need a truck? Better prepare to pay up." To be quite honest, I don't see this changing much at all in 2018 and many of our customers just cannot afford to "pay up" to be pushed to the front of the line.
What does this mean? It means that we better find alternative ways to protect our clients and overcome some of these challenges.
More planning is required to protect our customers from service delays. Investing in equipment and technology are key to anticipating and preparing for these types of backlogs. This year, BTX plans on running its own scheduled equipment to and from the East and West coasts. Without investing in equipment, our customers will have to expect delays in cargo delivery, which some cannot afford to do. Lead times will have to lengthen and suppliers will have to get products ready sooner so that these delays don't become catastrophic.
Other factors to keep in mind when planning ahead include preparing accurate and proper documentation for U.S. Custom cargo-clearance in advance; establishing more flexible receiving times; taking increased lead times into consideration when arranging cargo pickup and delivery, and keeping major holidays that affect the industry (like Chinese New Year) in mind. These are just a few of the ways our industry can start planning ahead to alleviate soaring costs and service delays.
Learn more about how BTX Global Logistics can help you get your cargo to its destination on time.
Ross Bacarella is the President and CEO of BTX Global Logistics. Headquartered in Shelton, Conn., BTX Global Logistics is a full-service transportation and logistics organization specializing in time-sensitive, heavy-weight freight and integrated solutions for customers in the U.S. and around the world. For more information, please visit www.btxglobal.com.
---