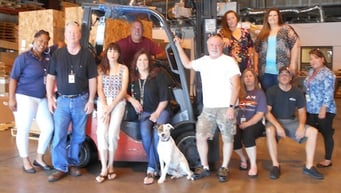 BTX Global Logistics has teamed up with Imap Global Logistics to launch an exciting new Diversity Arm, aimed at expanding business relationships across the transportation industry.
With over 20 stations across the nation, BTX will work in close partnership with Imap, located in Dallas, to promote new customer growth with opportunities both large and small that carry diversity business.
CEO of Imap, Tamara Bennett, explains of the alliance: "We were looking to collaborate with a company whose solutions rested in a personalized experience backed by technology—rather than thinking of customers as just a number. Working with BTX is exciting for us because our expectations align."
Equally dedicated in the creation of this Diversity Arm is Ross Bacarella, President of BTX. "I'm delighted to welcome Tamara and the Imap team to the BTX family. In today's industry, being global means being agile and inclusive; able to be both reactive and responsive. With diversity as the heartbeat of so many companies and corporations, it makes good business sense and good relationship sense to ensure we are equipped to answer quickly and effectively the many needs of all our customers."
Drawing on a collective expertise between the two companies of over 55 years in the industry, BTX and Imap are set to take on the future by storm.
For more information on working with the Diversity Arm of BTX Global Logistics, contact Tamara Bennett of Imap Global Logistics directly on: 817-481-1558 or email tbennett@imapgl.com.
BTX Global Logistics is a full-service transportation and logistics organization, specializing in integrated solutions for customers across the globe. Over the course of more than three decades, BTX has evolved from a single terminal in the Northeast to an organization with over 20 regional offices located throughout the country and countless international partners. For more information on our capabilities, please visit www.btxglobal.com.