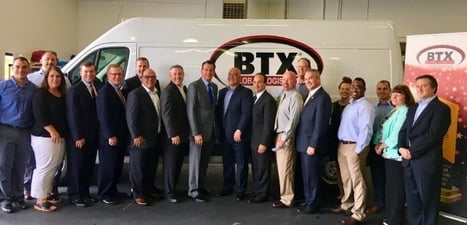 As Connecticut lawmakers approved a labor agreement in which Sikorsky Aircraft promised to retain 7,500 jobs in the state — and potentially hire as many as 1,000 more workers — BTX Global Logistics in Stratford hosted a visit from Governor Dannel Malloy, as well as Stratford Mayor John Harkins and Bridgeport Mayor Joe Ganim. The state and local executives were keen to discuss what impact the deal might have on a company such as BTX, a local business actively engaged in the Sikorsky supply chain.
"Given the nature of the Sikorsky product," said BTX VP Leonard Bacarella, "time and reliability are of the utmost essence. BTX will get the call to pick up a helicopter blade, and we will have it on site in the North Sea of Norway in twenty-two hours."
Helping the officials understand how Connecticut's local businesses play a pivotal role in commerce both near and far was a key topic for discussion during the visit.
Following government approval of the deal, members of Teamsters Local 1150 also gave their thumbs up, likely securing Sikorsky's future in Connecticut, as well as that of the entire production line for the King Stallion helicopter, until at least 2032.­­