National Truck Driver Appreciation Week (NTDAW) was founded in 1998 by the American Trucking Association (ATA) to honor the hard work of the men and women that deliver the goods that keep America moving on a daily basis. This year, NTDAW takes place from September 11-17, 2022.
This year, BTX Global Logistics recognized Bacarella Trucking drivers and BTX staff members with an "Employee Appreciation Bundle" for Labor Day that included exercise equipment and sanitization supplies to promote health and fitness.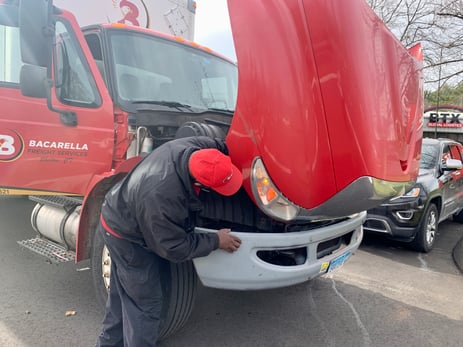 There are many ways to honor these valued road warriors that confront inclement weather, natural disasters and strikes to deliver critical supplies and other items to local stores and businesses each day. Below are some ideas for you or your company to try to help create a culture of appreciation for these unsung heroes, especially during National Truck Driver Appreciation Week:
Say "thank you" to a trucker or driver delivering goods to your home or business

Write a "thank you note" (or have your kids make one) for a driver and their family. Your drivers' families truly sacrifice by having their loved ones on the road for long hours each day.

Use social media to say "thank you" by using the following hashtags - #ThankATrucker #NTDAW

Keep truckers parked on the side of the road to rest safe by ensuring proper distance when driving by them on the highway

Treat your drivers to a meal at your workplace or with gift cards to popular road stops in your drivers' areas

Put together a gift packet with useful items for your drivers such as polarized sunglasses, gel-foam seat cushions, head lamps, hand sanitizer, and comfortable sleep berth mattresses for those that do long-hauls
As a full-service logistics provider, BTX provides ground services to customers using a broad portfolio of options that includes LTL, FTL, expedited, residential/home delivery, and commercial/specialized delivery services across North America. To help you better understand your ground transportation options and what type of equipment to select, BTX has put together two educational pieces that you can download for free by clicking below.
To request a quote for any of our services, please click here.
---
BTX Global Logistics is a full-service shipping and logistics organization known for providing creative and flexible solutions to its customers. BTX's services include expedited shipping, air freight, AOG/aerospace, ground freight, sea freight, white glove, tradeshow, ecommerce, fulfillment, distribution and much more.