---
BTX Global Logistics is proud to officially announce the opening of its newest worldwide shipping and logistics center in Orlando, Florida – BTX Orlando (BTX-MCO).
To celebrate its grand opening, BTX Orlando sponsored two JD Motorsports (JDM) vehicles in the Feb. 16th NASCAR Xfinity Racing Experience 300 race at the Daytona International Speedway in Daytona Beach, Florida, in conjunction with longtime customer, Orlando Event Productions (OPAV).
BTX Global Logistics is a leading shipping and logistics organization with over 30 branches across North America that specializes in flexible transportation solutions for shipments of any weight or size, anywhere in the world. The Orlando branch is the second BTX branch in the Florida area.
Led by David Graziotti and Raphael Cardoso, formerly with Service by Air, BTX Orlando brings 42 years of combined industry experience to the surrounding area.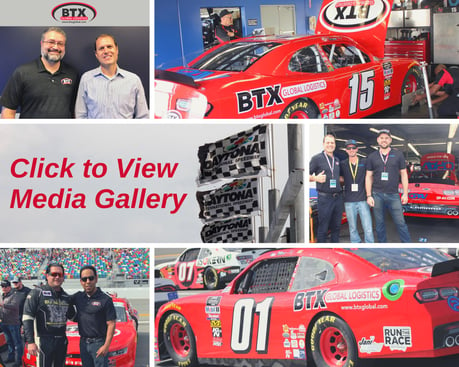 "The JD Motorsports sponsorship was a natural way for us to celebrate BTX-Orlando's full-speed kickoff as a BTX station since January 1st," said Graziotti. "As a provider of traditional and expedited shipping services, we understand firsthand the value of speed, dedication and accuracy."
BTX Orlando's areas of expertise include Medical Equipment, Lighting and Entertainment, Trade Show, the Marine Industry and Aerospace Logistics.
"We are really proud to be a BTX Global Logistics branch. The level of support, flexibility and innovation we get from BTX is beyond what we expected and allows us to service our customers even better," said Cardoso.
The No. 15 BTX Global Logistics Camaro SS, driven by BJ McLeod of JD Motorsports, finished 27 in the Xfinity NASCAR Experience 300 opening race on Saturday. Stephen Leicht's No. 01 Camaro SS, had mechanical issues and was unable to complete the race.
To contact BTX Orlando, please email MCO@btxglobal.com.
BTX Global Logistics is a worldwide shipping and logistics organization that provides flexible transportation solutions for shipments of any weight or size, anywhere in the world. With over 38 years of experience, thirty regional branches across North America and countless international partners, BTX brings a team of seasoned logistics professionals together to offer customers the highest quality of service. BTX's services include air freight, ground freight, sea freight, white glove, trade show, e-commerce, fulfillment, distribution and much more. Click here to request a quote today.
---