---
BTX Global Logistics, a provider of flexible shipping and logistics solutions for heavyweight cargo around the world, is pleased to announce the opening of its Detroit, Michigan, branch.
Led by Chad Furstenau and a team of logistics professionals, BTX-Detroit brings over 75 years of combined industry experience to the area.
For over 38 years, BTX has been known for its commitment to provide customers with the best service and freight options available. BTX's National Customer Service Center offers around the clock operations and customer support.
"We take a lot of pride in the constant communication aspect of providing the best service to our customers throughout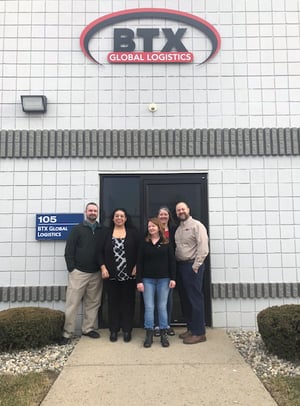 the transportation process. We are really focused on catering to those needs," said Furstenau, General Manager of BTX Detroit.
BTX's leading technology platforms provide full visibility into the transportation pipeline from pick-up through delivery. BTX also offers EDI and XML Services for larger customers requiring integration and/or custom programming to further streamline the shipping, tracking and reporting process.
"Chad fits right in with BTX's culture of dedication and innovation," said Ross Bacarella, CEO and President of BTX Global Logistics. "Our goal is to always route cargo through the most cost-efficient measures without sacrificing service. The key to our success is the dedication of our people, our longstanding relationships with our customers and our ever-evolving technology."
The 7,200 square-foot BTX Detroit facility is located just one mile away from Detroit Metropolitan Wayne County Airport. It is fully equipped with cross-dock and warehousing capabilities to handle e-commerce, fulfillment and warehousing services. BTX's extensive suite of services includes air freight, ground freight, sea freight, white glove, trade show and more. In addition to offering all of these services, BTX-DTW specializes in expedited shipping services and automotive logistics.
To learn more about BTX Global Logistics, visit www.btxglobal.com. To request a quote, email dtw@btxglobal.com.
BTX Global Logistics is a worldwide shipping and logistics organization that provides flexible transportation solutions for shipments of any weight or size, anywhere in the world. With over 38 years of experience, more than thirty regional branches across North America and countless international partners, BTX brings a team of seasoned logistics professionals together to offer customers the highest quality of service. Click here to request a quote today.
---