---
BTX Global Logistics gathered its executive team, branch owners and managers for a systems-wide conference focused on strategic planning, training and comradeship from April 7-10.
This year's Systems Meeting, which took place in Baltimore's Inner Harbor in Maryland, brought together 80 participants representing 32 BTX regional branches across the United States and Canada.
"It's really great to see the continued growth and expansion of the BTX family, we continue to foster the same sense of community, transparency and support that brought our branch owners to BTX in the first place," said Ross Bacarella, President and CEO of BTX Global Logistics. "This year's Systems Meeting was especially successful because it united an even bigger and more diverse BTX. We are dedicated to being best in class for our branches and for our customers."
The 2019 BTX Systems Meeting included general session meetings; a cocktail reception at the National Aquarium in Baltimore; a ballgame at Orioles Park at Camden yards; a cocktail/dinner at the Rusty Scupper Restaurant and a team-building scavenger hunt around the Inner Harbor.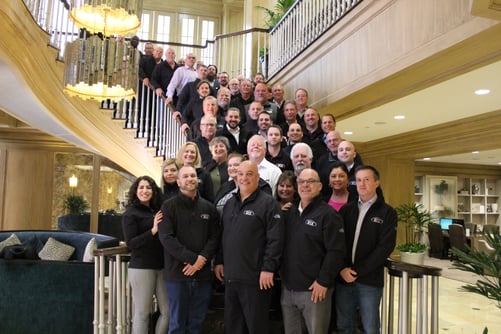 During an interview at the National Aquarium, Mark Woolley, a BTX Salt Lake City (BTX-SLC) branch owner with BTX for over 18 years, told the story of how they met Ross: "I can remember when Ross came to our office, it was about six, six-thirty on a Wednesday night and he talked to us about his vision. One of the things we were really impressed with is that he talked about a family – that we were not just a number, we were a part of his family and we've grown into that ever since then."

Woolley said he's seen Ross' visions from 18 years ago "come into fruition" over the years. "We are excited about the growth, the direction we're going in, and the technology [Ross] has instilled with Jeff and the rest of the team," he added.

Those with the company for less time echoed similar feelings.
"What attracted me to BTX was the family environment and the comradery among all the offices," said Stuart Stockelberg, Director of Trade Show Sales for BTX's Trade Show division (BTX-TEB), who has been with BTX for 18 months and in the industry for 24 years.
While at the ballgame, Kevin Woods, Director of International Operations for BTX Corporate, was asked 'What makes BTX a winning team?' His answer was simple, "The people."
"It's a family-run company," said Woods. "In a company like this, customers get more of a personal feel, the technology is great and it's a family-base feel for employees. The passion within the leaders of the company is evident from the top to the bottom."
The 2019 BTX Systems Meeting culminated in an Awards Ceremony at the Royal Sonesta Harbor Court where BTX branches and team members were recognized for various milestones, including top performance in sales, technology, operations and growth.
The event's most prestigious award, the Tony Bacarella Award, was awarded to BTX Connecticut (BDR/BDL) for top performance across the board in 2018. The Tony Bacarella award is named after Anthony Vito Bacarella, the founding father of the organization and the reason for the Bacarella family entering the shipping and logistics industry in 1980.
To request a quote, please click here. For career and station ownership opportunities, please click here.
BTX Global Logistics is a worldwide shipping and logistics organization that provides flexible transportation solutions for shipments of any weight or size, anywhere in the world. With over 38 years of experience, more than thirty regional branches across North America and countless international partners, BTX brings a team of seasoned logistics professionals together to offer customers the highest quality of service.
---