Giving back to the community is a core mission of BTX Global Logistics, a privately-owned shipping and logistics organization headquartered in Shelton, Conn.
Last year, BTX launched "BTX Cares" to assist the company with the ongoing mission of supporting local organizations through donations, sponsorships and community involvement.
Throughout the 2019 fiscal year, which closed Oct. 31st, BTX was involved in several community outreach initiatives hosted by local and nationwide organizations including the Special Olympics, Knights of Columbus, Homes for the Brave (HFTB), Pilot House, the Shelton Fire Department, St. Joseph High School of Trumbull and The 900 Project. BTX Global Logistics will continue its tradition of giving back throughout the Holiday season.
Every Gesture Counts
In 2019 alone, BTX employees walked 5Ks for local education; golfed for the Special Olympics, Knights of Columbus and Homes for the Brave; climbed the steps of Bridgeport's Webster Bank Arena for veterans; and raised winter coats, clothing and toys for those in need.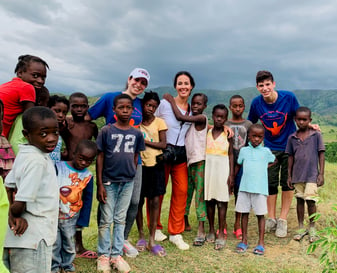 This Spring, the staff of BTX Corporate raised backpacks for impoverished children in Haiti and the Dominican Republic through The 900 Project. The 900 Project is a non-profit organization that raises money and materials to help change the culture and community in impoverished villages in Haiti. The organization's latest project is planting Breadfruit Trees to help end hunger in the village of Tilory in Haiti.
2019 was the second consecutive year that a group of BTX employees completed the 1,000-steps course for the "Step Up for the Brave Challenge," which is hosted annually by Homes for the Brave. The not-for-profit organization provides much needed services to men, women and children in the local area through housing, vocational training, and life skills coaching – with a special focus on veterans. The nonprofit's goal is to help individuals leave homelessness behind. In addition to participating in the event, BTX was also a platinum sponsor of the 2019 5th Annual Step Up for the Brave event that took
place this Summer.

This Fall, BTX also hosted the bi-annual St. Joseph High School Phone-a-thon at it's world headquarters in Shelton, Conn., for the ninth consecutive year. The Phone-a-thon raises funds for St. Joseph High School student scholarships and special projects. The St. Joseph High School Phone-a-thon happens twice a year and is already scheduled to take place again at the BTX World Headquarters in the Spring of 2020. St. Joseph High School is locate in Trumbull, Conn.
"Staying active and engaged in our community is very important to us at BTX," said Katie Zap, Manager of Corporate Relations. "Our staff is always bringing forth opportunities for us to serve and impact the people around us. We are fortunate to be able to make a difference in any way we can throughout the year."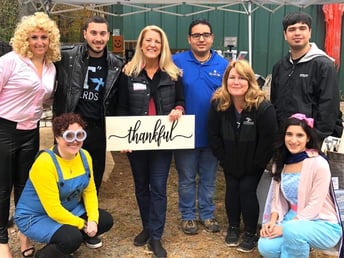 In October, BTX was also a key sponsor of The Pilot House Community Farm's 5th Annual Harvest Fair. The Pilot House Special Needs Center is a local community center in Fairfield, Conn., that offers a suite of services and programs to support and serve the diverse needs of children, young adults and adults with special needs. The annual Harvest Fair brings the community together to collectively raise awareness and money for these programs and services.
Every November and December, BTX Global Logistics kicks off a special winter clothing or food drive for a local organization. This November BTX is participating in the 2nd Annual Winter Coat drive for the Bridgeport Rescue Mission where BTX Corporate staff donates new or gently-used winter coats and apparel for men, women and children in need. The Bridgeport Rescue Mission provides meals, clothing, shelter and recovery services for people experiencing poverty, addiction, and homelessness in Coastal Fairfield County towns in Conn.
In December, BTX will start its annual toy drive for the Toy Closet Program hosted by Yale New Haven Children's Hospital in New Haven, Conn. The toys are given to children during their hospital stay throughout the year to bring them comfort and joy during a difficult time. It was initiated by BTX Global employee, Joe Stoffan.
"It is horrible for any child to be sick in the hospital, but to be there during Christmas is even worse. I try to bring a little joy to their lives by doing this toy drive every year. The employees have been amazing with their ongoing contributions," said Stoffan.
Check out the "BTX Cares" Media Gallery to learn more about BTX's involvement in the community.