Regardless of country of origin, commodity or mode of transportation, navigating the challenges of clearing freight through customs can be difficult and costly for shippers that aren't up to speed with the complex and ever-changing government regulations.
Below are some of the most common challenges shippers face when attempting to clear their goods:
Lack of proper, or incomplete, documentation to clear customs
Penalties and fines due to a lack of understanding of compliance, security and safety regulations
Improper tariff classification
Customs clearance delays due to reasons like above
Poor customer experience and missed opportunities due to delays
In addition to unhappy customers that did not receive their goods/merchandise on time, there are also real costs associated with the improper documentation and classification of freight. Below are some statistics from the U.S. Customs and Border Protection (CBP) organization that help illustrate the magnitude of these costs: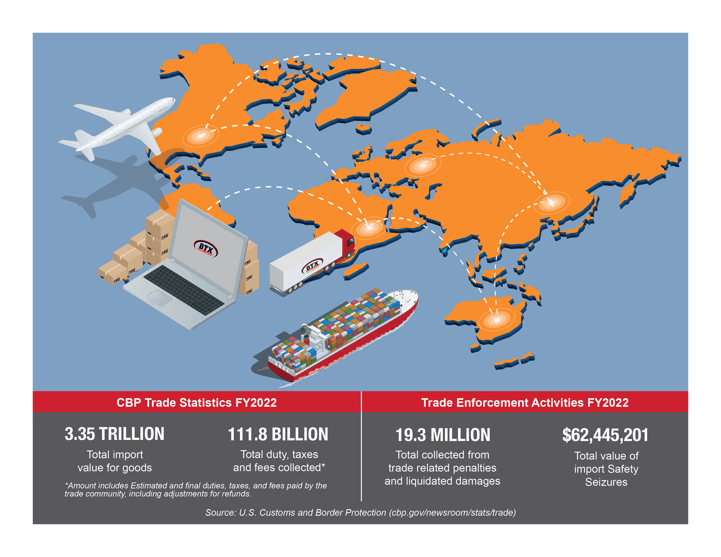 To ensure that you are in total alignment with the latest Customs regulations and can easily navigate through any challenges that come up, it's best to enlist the help of an experienced Customs broker. BTX Global Logistics' in-house Customs Brokerage division specializes in clearing goods for our customers in a timely manner with ease and efficiency. Our team of experienced and knowledgeable professionals are equipped to find the best solution for all of your importing needs to help you avoid costly delays, fines, confiscation of merchandise and other penalties.
Why Choose BTX's Customs Brokers to Clear you Freight?
In-house Customs Brokerage division for a full-service solution
Complete compliance management
Expedited cargo processing
Real-time communication with key government agencies in conjunction with U.S. Customs and Border Protection (CBP)
Customs clearance for all U.S. ports and airports, including Puerto Rico
State-of-the-art technology for transparency and visibility

For more information or to contact the BTX Customs Brokerage division, please click below.

---
BTX Global Logistics is a full-service shipping and logistics organization known for providing creative and flexible solutions to its customers. BTX's services include expedited shipping, air freight, ground freight, sea freight, white glove, trade show, ecommerce and fulfillment, home/residential delivery and much more.