National Truck Driver Appreciation Week takes place every year during the second week of September. This year, the week-long celebration runs from September 10th through the 16th. BTX Global Logistics would like to recognize and honor the unsung heroes who ensure the timely movement of essential goods across the nation and keep our economy moving.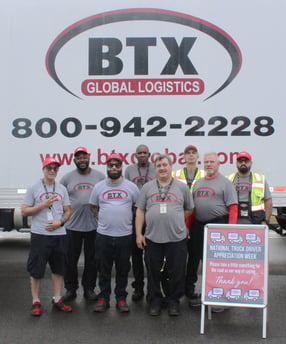 Truck Drivers are Essential
According to the American Trucking Association (ATA), the trucking industry is responsible for transporting more than 72.6% of the total freight tonnage in the United States. Additionally, 8.4 million people were employed in jobs that relate to trucking activity in 2022, excluding the self-employed.These incredible accomplishments do not go without sacrifices. The life of a truck driver means extended hours on the road, often away from family. Long hours, unpredictable weather conditions, and the pressures of meeting tight delivery schedules can take a toll on their well-being. For these reasons, truck drivers deserve recognition and respect.
As a full-service logistics provider, BTX provides ground services to customers using a broad portfolio of options that includes LTL, FTL, expedited, residential/home delivery, and commercial/specialized delivery services across North America.
BTX does something a little different every year to thank its drivers ranging from supplying boots and other safety/wellness equipment to providing breakfasts, snacks and gift cards. This year, BTX will be treating Bacarella Trucking drivers to a breakfast, snacks for the road, and gift cards to celebrate National Truck Driver Appreciation Week.
Any driver picking up or delivering cargo to BTX's World Headquarters in Shelton, CT, can also enjoy treats to take on the road.
How can you honor truck drivers in a special way?
Below are suggestions of how you or your company can show your support: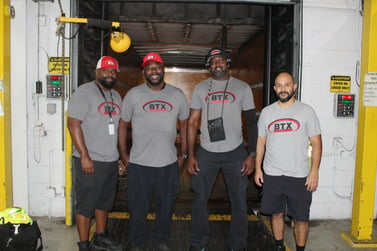 Treat truck drivers and staff to a meal. Whether at your facility or in the form of gift cards to popular food stops, a free meal is always a welcome break from the road.
Gifts of T-shirts, duffle bags, and travel mugs are ways to show appreciation and help make your drivers feel part of a team.

Donate to charities

that assist in the form of medical and wellness assistance to truck drivers and their families in need. Here are four of the top organizations that provide help in this way:

If you are on the road a lot, a "Thank you truck drivers" sign in your

back window or a sticker on your vehicle is enough to make a driver's day better.
Happy National Truck Drivers Appreciation Week! A special thank you from BTX goes out to all truck drivers working diligently every day to get cargo and essential goods to people everywhere.

Sources: www.trucking.org; www.freightwaves.com
---
BTX Global Logistics is a worldwide shipping and logistics organization that provides flexible transportation solutions for shipments of any weight or size, anywhere in the world. With over 40 years of experience, BTX brings a team of seasoned logistics professionals together to offer customers the highest quality of service. BTX's services include air freight, ground freight, sea freight, white glove, trade show, e-commerce, fulfillment, distribution, and much more.