Editorial by William B. Cassidy, JOC
Many shippers were caught by surprise when the ELD mandate helped tighten capacity in 2017. Are shippers ready for the next phase of the US electronic logging device (ELD) mandate? They should be, but if past history is any guide, they may not be the case. Those shipping freight across the United States need to plan, even at the last minute, for potential disruption, even if that disruption is minor.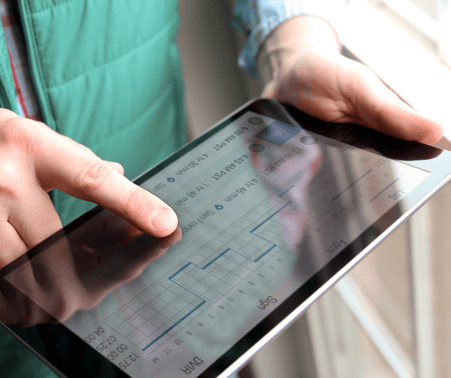 The provision of the ELD mandate that "grandfathered" automatic onboard recording devices (AOBRDs) for two years expires Monday.
All truckers that had AOBRDs will be expected to have replaced them with ELDs. Those that haven't may be subject to fines and out-of-service orders. This time, regulators say there will be no "soft enforcement."
That should give shippers a strong sense of Déjà vu. In the run-up to the implementation of the ELD mandate two years ago, trucking companies scrambled to find devices as the Dec. 18, 2017 deadline approached. ELD vendors reportedly were swamped by last-minute orders, and shippers were caught off guard when capacity suddenly tightened.
Now fast forward to this last phase of the ELD mandate. Many trucking companies that were using AOBRDs two years ago are just completing the transition to ELD technology. It's not just a simple swap. For Old Dominion Freight Line, the transition took eight months, once the less-than-truckload carrier identified a solution and began installation and training.
Other carriers, such as Southeastern Freight Lines and Nussbaum Transportation, reported six- to seven-month transition periods this year. Beyond installation and training, the ELD has forced carriers to change operations. Have shippers taken the time to analyze what they may have to do as larger carriers transition from the AOBRD and the number of ELDs in use increases?
The answer, some ELD vendors fear, is probably not.
"What I see is a repeat of behavior patterns from 2017," Ken Evans, CEO of ELD vendor Konexial, told JOC.com in early December. "The first go-round, it was really owner-operators who delayed (getting ELDs). They didn't pick up the phone to call anybody until after Thanksgiving. We're seeing a repeat of that on a much larger scale."
Evans believes "there are still people with hundreds of trucks running an AOBRD and they haven't made a decision (about which ELD to choose)," he said. "They don't think it's important. They don't understand the magnitude of the behavioral change let alone the technology. They're not going to be there by the deadline, and there's not going to be any soft enforcement."
Bumps ahead
That means shippers may encounter some bumps when it comes to the availability of trucks from suppliers that haven't finished the transition. Some trucks may be parked until they can get an ELD. With a soft market, any impact from the end of the AOBRD grandfather period will likely be softer than the jolt shippers felt when ELDs were first required in 2017 and in early 2018.
Still, shippers should not underestimate the impact of the final ELD deadline, and should have plans in place if any of their carriers or trucks suddenly are not available for ELD-related reasons. No one wants to hit freight-delivery speed bumps in the last two weeks of December.
In September 2017, JOC surveyed shippers and third-party logistics providers about their readiness and expectations for the ELD mandate. About 20 percent said they had done nothing to prepare for the mandate. Only 19 percent of shippers expected a heavy impact from the mandate, and most thought of the ELD as a carrier problem.
Many of those shippers found freight sitting on their docks in January 2018, and had to make adjustments to lanes where transit times went from same-day to next-day overnight.
"Shippers may say this isn't going to affect us, but it will, because fleets have to rethink how they do supply chain," said Craig Marris, executive vice president of mixed fleets at ELD vendor Coretex. "There's going to be a lot more drop and hook. The impact will give us an indication of how many fleets either hadn't used logs or were running illegally. It's a significant change."
Contact William B. Cassidy at bill.cassidy@ihsmarkit.com.
Source: http://www.joc.com