The U.S. Department of Transportation's (DOT) phase-out of the Other Regulated Materials-D (ORM-D) classification for small quantities of hazardous materials shipped via ground ended on Dec. 31, 2020. As of January 1, 2021, shippers must mark and label packages according to the new DOT regulations for limited quantities to avoid the rejection of their packages.
It is important for shippers to understand these changes or work with an organization like BTX Global Logistics that closely monitors transportation compliance at all levels to ensure the proper handling and labeling of your packages.
In summary, Class 9 Limited Quantity packages are now required to bear the "new" limited quantity square-on-point label marking for ground shipments, as seen in the image below. The ORM-D designation is no longer accepted. If shipping liquids, the orientation arrows will also be required per 49 CFR 172.312(a)(2) regulation.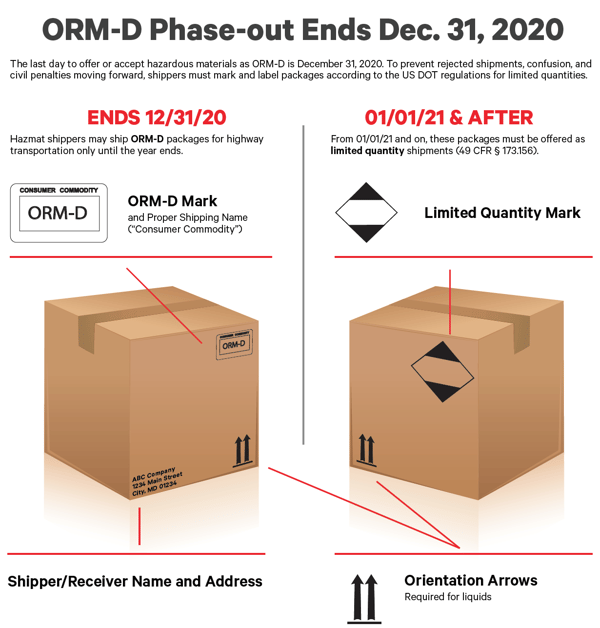 Source: Department of Transportation
Limited quantity shipments are typically excepted from UN specification packaging, hazmat labels, shipping papers, and hazmat placards. In most cases, the same materials in the same quantities and the same packaging will continue to qualify for relief under the DOT's limited quantity regulations. You can refer to the DOT's Chemical table to know if your materials are eligible to be shipped as limited quantity or contact your BTX representative for help.
BTX Global Logistics works in accordance with 49 CFR 172.704 and the DOT to ensure the safety and proper handling of all hazardous material shipments.
---