For Boston-based freight forwarder Falcon GlobalEdge, a new flag will be flying this week, as they become BTX Global Logistics - Boston. Trusted and successful BTX Global Logistics specializes in time-sensitive, heavy weight freight around the world, but has particularly carved a place in the transportation industry for customers who need a highly personalized, true logistics partner.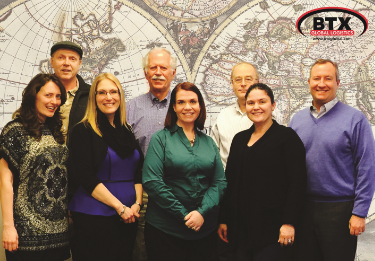 For Falcon GlobalEdge, joining BTX Global Logistics simply underscores their own mission to bring the very best freight forwarding and logistics solutions to customers worldwide.

"BTX has built an advanced and responsive suite of software that we are excited to leverage with and for our clients," says Richard Fisher, President of Falcon GlobalEdge — who has been named the Executive Vice President for BTX Global Logistics - Boston. "Coupled with an excellent support network, this will extend our reach and enable us to meet the changing needs of customers, as well as to stay at the forefront of the industry," he adds.
Certainly, staying at the forefront of the industry is something to which Richard Fisher is no stranger. He has served for several years as Chairman on the Airforwarders Association Board of Directors, and currently serves on the Board as Treasurer. Fisher has testified before the House Committee on Transportation and Infrastructure; as a member of the Air Cargo Subcommittee of the Commercial Operations Advisory Committee (COAC) he has advised the Department of Homeland Security (DHS) on matters relating to air cargo security; and has established himself as a true thought leader and advocate for members of the transportation supply chain.
"We are delighted that Falcon GlobalEdge has joined the BTX family," said Ross Bacarella, CEO and President for BTX Global Logistics. "Richard's intimate knowledge of the industry as a whole, as well as the dedication of his group, is a perfect fit for BTX. The expertise they bring to the table will truly strengthen the BTX stable of offerings for our customers in this evolving industry. This move is a unique opportunity and an exciting new chapter for BTX Global Logistics."
In transitioning over to BTX Global Logistics—Boston, Fisher and his team have become part of the group that includes over 20 stations for BTX Global Logistics in North America, with international agents across the globe. The Boston presence solidifies an upward trend in growth for BTX, and one that is welcomed by all.