---
BTX Global Logistics, a provider of heavyweight shipping and logistics solutions for customers around the world, has expanded its Salt Lake City footprint with the merger of BTX's Salt Lake City branch with the former SBA Global/Radiant Logistics office.
BTX Global Logistics is known for its advanced technology and customer-centric approach to service. With over 40 years of experience and 34 regional branches across North America, BTX offers flexible and customized solutions for companies of all sizes.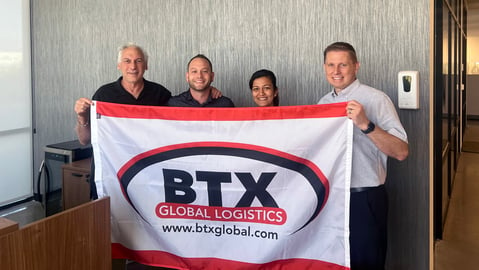 "The opportunity we had to join Ken, Mark and their team was one that we couldn't pass up," said Ben Stevens, of BTX SLC-PVU. "We were looking for a culture that fits us better than where we were at. The family culture that we feel at BTX is something that we were missing, so we're excited to have that along with all of the support that BTX provides to its branches."
Collectively, the two BTX Salt Lake City branches will be able to provide even more for customers in the Rocky Mountain region and surrounding areas, including:
Expanded service offerings in both domestic and global shipping

An experienced Trade Show team with strong decorating company relationships

More space for warehousing, e-commerce & fulfillment: 160,000 sq.ft. in Salt Lake City, UT, and Carson, LA
More experience, equipment and drivers
"The synergy between our two branches was just a natural merger. The merger gives us the opportunity to be such a dynamic force in the Rocky Mountain region and enables us to serve our customers to a greater magnitude that will really be a benefit to Utah. We're really excited!," said Ken Allred, of BTX-SLC.
As part of the BTX network, the BTX SLC-PVU branch will also be able to leverage BTX's leading technology platforms to provide maximum visibility into the transportation pipeline; BTX's in-house custom programming and web services, BTX's in-house Customs Brokerage division and around the clock customer service support.
For more information or for a quote request, please click here.
---
BTX Global Logistics is a full-service shipping and logistics organization known for providing creative and flexible solutions to its customers. BTX's services include expedited shipping, air freight, ground freight, sea freight, white glove, trade show, ecommerce and fulfillment and much more.