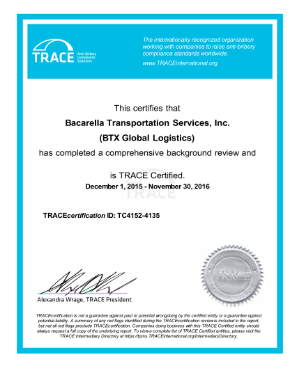 BTX Global Logistics, in continued commitment to transparency in international commercial transactions in the forwarding industry, is pleased to announce it is now TRACE certified.
TRACE International is a non-profit business organization that pools resources to provide members with anti-bribery compliance support. TRACE International is the world's leading anti-bribery standard setting organization and works with TRACE Incorporated to offer both members and non-members customizable due diligence, training and advisory services. With a shared mission to advance commercial transparency, TRACE International and TRACE Incorporated provide companies with a complete anti-bribery and third party compliance solution.
TRACE Certification requires completion of internationally accepted due diligence procedures.
With this certification, BTX Global Logistics now joins hundreds of multinational corporations, as well as thousands of small and medium-sized enterprises throughout the world that are committed to increasing transparency in international business transactions. "In an industry where risk is constantly assessed, and ethical business practices are vital to communication and growth, TRACE Certification was an obvious step for us," says BTX President and CEO, Ross Bacarella. "As a freight forwarder particularly active with project cargo and other time-sensitive, heavy weight cargo around the globe, transparency in international transactions is essential."
BTX Global Logistics is a full service transportation and logistics organization, specializing in integrated solutions for customers across the globe. Over the course of more than three decades, BTX has evolved from a single terminal in the Northeast to an organization with over 20 regional offices located throughout the country and countless international partners. For more information on our capabilities, please visit www.btxglobal.com.